What is the Features of High Speed Spiral Door?
Views: 16 Author: Site Editor Publish Time: 2019-09-11 Origin: Site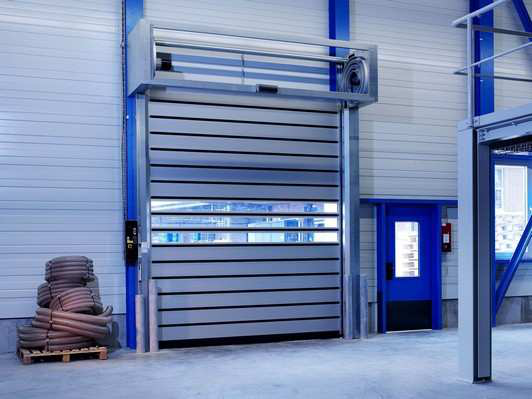 Hard fast door is also known as rapid rolling doors, high-speed doors, the rolling door, is one kind of industrial door controlled by PLC, inverter, encoder to achieve fast lifting and accurate positioning. And it's mainly used in food, electronics, printing and other higher application which have high requirements for the environment, its main effect is fast isolation to ensure the dust-free air quality level of workshop.
The fast door usually consists of a door frame system, a door curtain system, a drive motor and a control system. The speed of the fast door is more than 2.6 meters per second, is a fast lifting isolated door without barrier. The main function is heat preservation, moisture preservation, dust-proof, insect prevention and sound insulation, so that the workshop can maintain a constant temperature, humidity, and clean working environment.
Panel of Hard Turbine Fast Door
the door panel includes the board shell, the board shell is made of two aluminum profiles connected by thermal insulation bridge, the board shell is equipped with glass fiber insulation cotton; The advantage of fast door is that it can have very good fire prevention function, good heat insulation effect long service life and beautiful outlook.
Application of Hard Fast Door
Hard fast door is widely used in underground garage, automobile factory, food, chemistry, textile, electronics, supermarket, freezing, logistics, storage and other places.
Advantages of Hard Fast Shutter Door
The advantages of Hard fast shutter door: heat preservation, cold protection, insect prevention, wind-proof, dust-proof, sound insulation, fire prevention, odor prevention, can meet the requirements of high performance logistics and clean place, and it can save energy, improve operating efficiency through fast automatic closure to create a better operating environment.
Features of High Speed Spiral Door
1, Good insulation performance:
The slat is made of aluminum alloy, double layer aluminum alloy, broken bridge structure design, sandwiched with efficient insulation material (polyurethane foam), effectively reduce heat exchange;
2, Strong wind resistance performance:
The hard slat piece also solves the wind resistance problem very well, does not fear the cold wind and the strong wind;
3. Fast speed and high frequency:
Using high-performance special servo motor to ensure the smooth opening and closing of products in high speed and high frequency, the opening speed is more than 1 meter per second, which can open and close thousands of times every day, and keep long-term operational reliability, which shortens the opening time, reduces air circulation, and avoids the loss of heat and air conditioning;
4, Good sealing:
Using high quality EPDM tape connection between slats to enhance sealing and weather resistance;
5, Good light transmittance:
Optional transparent Windows solve the problem of light transmission.
6, Good safety performance:
Door body on both sides has installed safe photoelectric senor, the door body can rise automatically when there are people or goods under it during the door falling. Airbag is stalled at the door body bottom for better security, the door body will rebound automatically under stress to protect people or goods from hitting.