The Specification of High Speed Spiral Doors
Views: 33 Author: Site Editor Publish Time: 2019-09-09 Origin: Site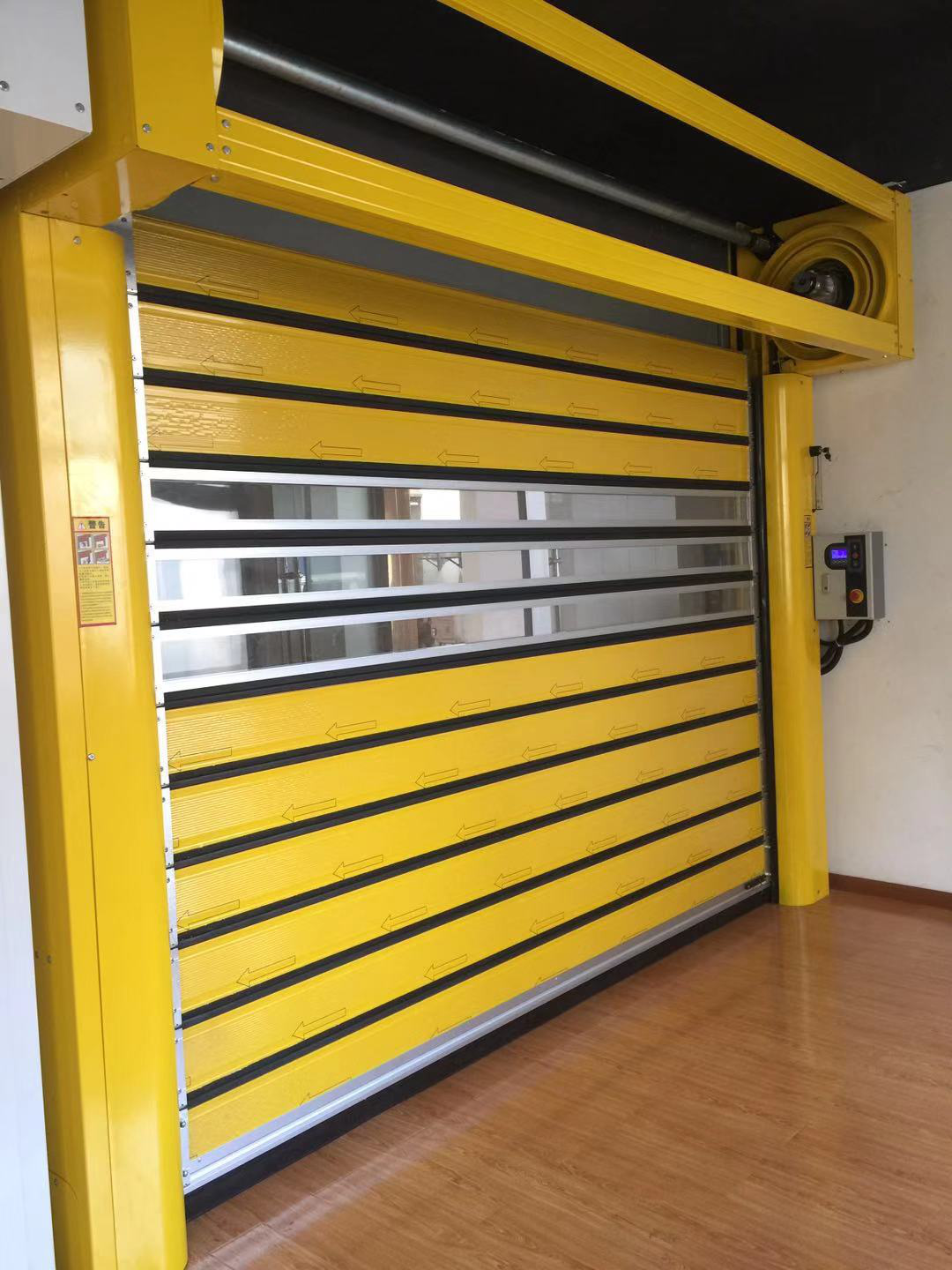 High Speed Spiral Door is designed for the rapid flow of materials (to shorten the time of entry and exit). The greatest advantage of the high speed aluminum spiral door is the quick isolation ability from inside and outside, which ensures the air quality and working temperature of the workshop, in a fast, safe and reliable way. The high speed aluminum spiral doors are mainly composed of a Door frame system, Curtain mechanism, Drive motor system, Control system, Security system, and Lifting mechanism. It can be configured for a wide range of opening and closing speed, allowing you to precisely set the best speed for your application.
Curtain Mechanism
The control system is divided into several parts: aluminum alloy curtain, soft joint rubber strip, load-bearing rubber chain and guide wheel. The thickness of aluminum alloy curtain is 40-50mm, the surface is anodized and organic colored. There are white, silver, gray, blue and other colors to choose from.

Drive Motor System
Consists of the motor brake, motors with reducers. Most of the high speed spiral doors use the brake geared motors, to meet the high speed door requirement of fast braking and low noise.
Control System
The most commonly used control unit is an integrated circuit board consisting of PLC/inverter/encoder or with its own IPM module. Most of the control systems used by the manufacturers are PLC/inverter/encoder. Master Well selected imported brands such as Mitsubishi and Siemens.

Lifting mechanism: The stainless steel or aluminum alloy guides the load-bearing track to ensure that the curtain has no dry sound when running at high speed, and the curtain and the track are not rubbed.
Performance Parameter
Product Name

High Speed Aluminum Spiral Door

Special Option

Servo System Motor

Maximum Door Size

W8000mm*H6500mm

Opening speed

0.8 - 2.5 m/s, adjustable

Standard Control Mode

Push wall switch

Operation way

Remote control, Access Control, Magnetic loop,Radar, Pull Rope Switch

Emergency Operation

Available

Door Panel

Aluminum sandwich construction, PU foamed

Hardware Material

Frame and Cover Box - Galvanized steel / 304 stainless steel

Inner Track Guide - Aluminum extrusion

Vision panel - Optional Double PC sheet window

Motor Brand

SNMA, SEW, SIEMENS,SEJ,SERVO

Motor Power

0.75kw - 5.50kw

Input Voltage

220V 50HZ/380V 50HZ

PLC Brand

SIEMENS / MITSUBISHI / OMRON /KEWEI

Inverter / AC Driver

MITSUBISHI,SIEMENS,SHIHLIN

Revolving Encoder

TOFI (INCREMENTAL ENCODER)

Control Box

Safety class- IP55, Variable speed drive

Safety Performance

Infrared photo sensor, Safety airbag edge protection

Wind Resistance

Class 12 (Beafourt Scale)

Operating Life

500,000 cycles

Working Temperature

-25 °C to 65 °C

Warranty

1 year for electric parts, 5 years for mechnical parts
Master Well hard fast door is the globally unique result under innovation and creative approach to the last est technology. With spiral round non-contact the sectional curtains connect with each other when roll up, the curtain material won't wear, distort and run fast without noise. It can open and close automatically by your choice of floor loop, photo eyes or motion detector, improving traffic flow and efficiency. Please feel free to contact us to discuss more.