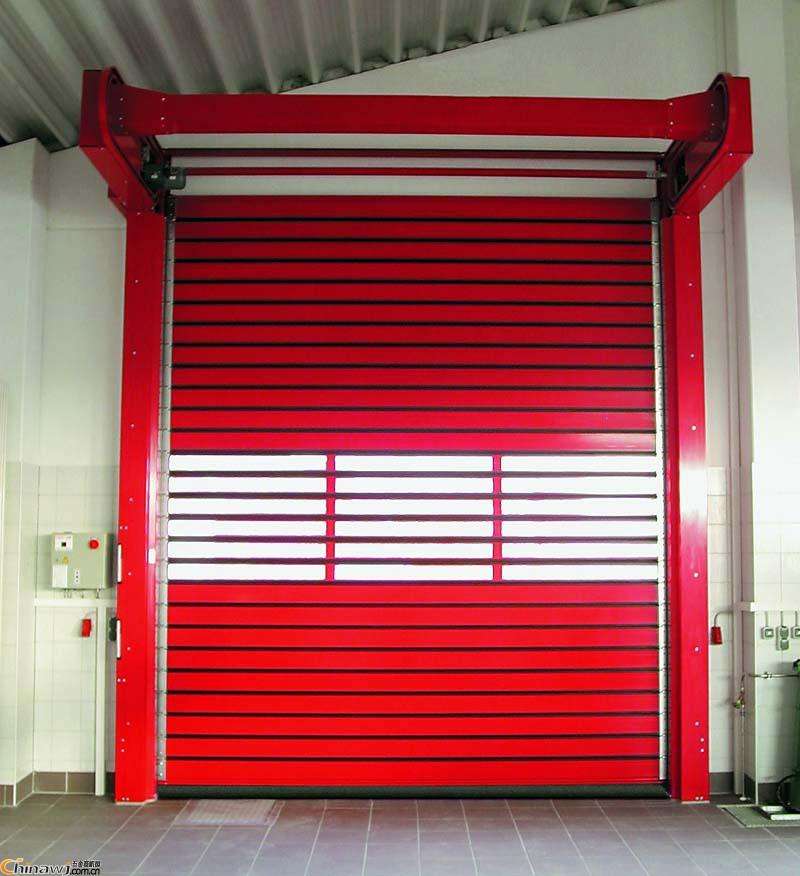 The fast door usually consists of a door frame system, a door curtain system, a drive motor and a control system. The speed of the fast door is more than 2.6 meters per second, is a fast lifting isolated door without barrier. The main function is heat preservation, moisture preservation, dust-proof, insect prevention and sound insulation, so that the workshop can maintain a constant temperature, humidity, and clean working environment.
In terms of material, the door plate of the rigid turbine fast door is made of 0.7mm thick double-layer aluminum plate, which is made of polyurethane foam layer in the middle, and the total thickness of the door plate is 40mm. The section design is broken bridge insulation structure, good insulation, light weight, strength, impact resistance, can resist the wind below 12 level.
The outstanding advantage of the spiral doors is energy saving. Since the desired temperature(warmth or cold) is maintained through the fast opening and closing speed, the heat loss stays low.
As below are some panel model of hard fast door from MasterWell:
1, ARF40N: Panel type: Roll forming with PU, 40mm, Material: 0.7mm Aluminum sheet, covering height: 185mm
2, ARF40F: Panel type: Roll forming with PU, 40mm, Material: 0.7mm Aluminum sheet, covering height: 210mm
3, ARF50N: Panel type: Roll forming with PU, 50mm, Material: 0.7mm Aluminum sheet, covering height: 230mm
4, EA40NH: Panel type: Extruded Aluminum, 40mm, Material: 1.2/2/0mm Aluminum, optonal PU foamed, covering height: 180mm
5, EA40NF: Panel type: Vision window, 40mm, Material: 2.0mm Aluminum with PC panel, covering height: 180mm
The door panels are sealed by soft connecting strips, and the flexible connecting parts have a life span of more than one million times.
The hinge load-bearing design makes the joints of the door curtain not to be forced, and the door panels do not touch each other, and the evenness can be maintained after a long time.
The Aluminum Alloy combined rail and double helical turbine guide, make the door body smooth, quiet operation. Strong bearing capacity, reduce contact, friction and wear between door panels and connectors during operation.
Motor of high speed spiral door
Servo motor, AEW motor and German brand SEW motor and other brands of motor can be selected, the power supply voltage is 220V or 380V. The power is 0.75-5.5KW. Power off brake, manual brake release, braking voltage 220V. (match according to door size)
Control system of high speed spiral door
The control box includes PLC and frequency converter, the brand of PLC has SIEMENS, MITSUBISHI and KEWEI, the brand of frequency converter has SIEMENS, MITSUBISHI and SHIHLIN. The best control box we recommend is servo control system.
To guarantee high speed operation for the fast door, servo system motor drive and servo control box are the best option. It provides great power to ensure stability, safety, low energy consumption: incremental encoder to set up the opening limited height, self malfunction detection program and indicator to eliminate the faulty operation, alert response to speed adjustment to extend the motor life.
Control mode of High speed spiral door
The control mode has button, radar, geomagnetic ring, wireless remote control, card swiping, fingerprint, photoelectric, rope pulling, ETC, AB door interlock and combination of various open methods.