How to choose a suitable sectional garage doors?
Views: 6 Author: Site Editor Publish Time: 2019-11-22 Origin: Site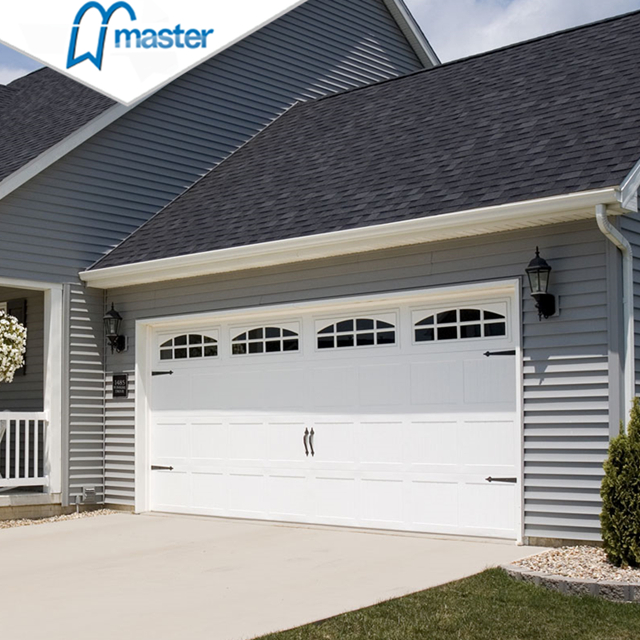 Before you start shopping for a new garage door, learn what you should be looking for and get a sense of the vast possibilities this popular home improvement offers.
Every time you leave or return home, you can't help but notice the garage door. But how often do you really look at it? Indeed, ever since the rise of the automobile, the garage door has become the dominant feature of most home exteriors. Paint colors, architectural details, and landscaping all contribute to a home's character, but make no mistake, curb appeal inevitably suffers if a garage door appears worn, out of date, or simply doesn't complement the rest of the house.
DO select the right style.
If a worn-out garage door can leave a first-time visitor with a bad impression of your home, the opposite must hold true as well. Upgrading your garage door will enhance the visual appeal not only of the garage, but of the entire exterior. Here's the key: Select a door style that complements your house. For instance, if you live in a Craftsman bungalow—distinguished by deeply overhanging eaves, extensive woodwork, and divided-light windows, look for a garage door that features the same hallmark characteristics. Meanwhile, if you live in a clean-lined modern home, concentrate on simple garage door designs with limited detailing, which will reinforce the streamlined appeal of the architecture. Rather than sticking out like a sore thumb and calling attention to itself, a successful selection looks right at home on the exterior. Garage door manufacturers offer no shortage of options, or if you have a specific vision, you can even design a custom door to your exact specifications.
DON'T forget insulation.
Many homeowners use the garage as their primary entrance. If you're one of them, consider an insulated garage door. For one thing, insulation ensures greater comfort in the garage. In fact, on a cold day, a well-insulated door can keep the garage 10 to 20 degrees warmer. It's not all about comfort, though. There are savings at stake, too, because as the largest opening in the home, the garage door can affect your home's overall energy efficiency. In a home with conditioned living spaces next to and above the garage, a poorly sealed, uninsulated garage door can make the home's climate-control system work harder (and consume more energy) to maintain the target temperature. By minimizing drafts and thermal energy transfer, an insulated garage door can help lower monthly utility bills. That said, much depends on the quality of the insulation. To understand the insulating capacity of a garage door, consult its listed R-value. The higher the R-value, the better the door's performance.
DO choose a practical door type.
Different types of garage doors operate in different ways. Traditional swinging doors open outward from a central split, while others slide right to left like the entrance to an old barn. Far and away, one type surpasses the others in terms of popularity— overhead sectional doors. There are a couple of reasons why homeowners favor the convenience of an overhead sectional design. For one, in contrast to swing-style doors, which require ample clearance, sectional doors roll up and down on mounted tracks. And, overhead sectional doors are easy to pair with an automatic garage door opener.
DON'T ignore care requirements.
As a hardworking component of today's home, the garage door must be maintained properly in order to look and perform its best. Certain construction materials require more care than others. For instance, while there's no denying the beauty of natural wood, some homeowners avoid it because it requires periodic refinishing. Other materials offer the look of wood with considerably less upkeep. Composite—a combination of wood fibers and synthetic resins—emulates the look of wood but provides superior durability, and won't rot, warp or crack. Steel is a great option no matter where you live. But if you're near the coast, you'll need to wax your door like you would a car to prevent surface rust. The best advice: Understand the upkeep requirements of any door on your radar, and don't commit to purchase one that you're unable or unwilling to take care of.
From style to construction material, from the R-value of the insulation to the presence or absence of windows—a number of variables can affect the final cost of a garage door. Prices run the gamut from a few hundred dollars to a few thousand (not including installation). It's important to point out, that garage door replacement is one project that can increase the value of your home. In fact, among the most commonly completed home improvements, upgrading the garage door ranks near the very top of the list in terms of cost effectiveness and return on investment. It's no wonder that for budget-savvy homeowners in pursuit of improved curb appeal, few projects are more exciting, more popular, or more rewarding. What are you waiting for?