Different types of high speed spiral door?
Views: 55 Author: Site Editor Publish Time: 2019-08-07 Origin: Site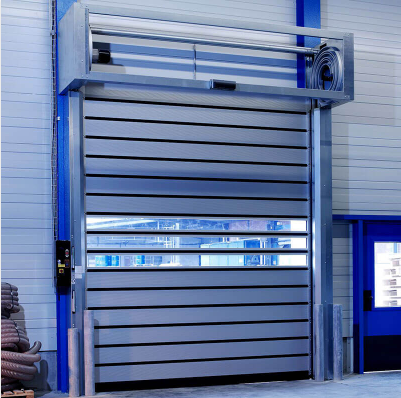 Worldwide increasing energy prices have prompted MASTER WELL to design completely new high-speed hard spiral doors as energy-saving method. Since the desired temperature (warmth or cold) is maintained through the fast opening and closing speed, the heat loss stays low. So the technically new design constitutes an improvement of the physical characteristics of the industrial door leaf as well as an optimization of the functionality.
Also MASTER WELL offers High-Speed Spiral Door of various different types, the following are listed from panel models and spiral models two different aspects.
Master Well has five different panel models, like ARF40N, ARF40F, ARF50N, EA40NH, EA40NF. The first three models are aluminum PU foaming panels, and the last two are extruded aluminum profiles. Mainly includes the total thickness of 40mm and 50mm. The 40mm-thickness aluminum PU foaming door panel is divided into an finger-protection interface panel with a width of 185mm and a normal interface panel with a width of 210mm. The 50mm-thickness aluminum PU foaming panel only has a normal interface panel with a width of 230mm. The extruded aluminum profiles panels are all 40mm thickness with normal interface panels.
The standard thickness of 40mm or 50mm panels' surface is anodized and organically colored. It's wind resistance can reach class 12. There are several colors for choice according to the international standard RAL color: color white, silver, gold champagne, gray, blue and other colors.
Spiral Models of High speed spiral door
MASTER WELL offers different designs of spiral guides as shown above. Round spiral is the standard and ideal solution for enough space above the door, boasting the fastest opening and closing times. If you only have limited space above the door then there are two options, the Oval spiral and low-header. Oval spiral is the space-saving design, applied in restricted structural conditions and lower header model is widely used in underground car parking lots.
Round and oval spiral guide, with high-quality rollers, soft door movement, no frustration, ultra-quiet, greatly increasing the service life of the high speed hard spiral door. The use of this type of door can save a lot of energy loss due to air circulation, and save energy by about 50% compared with ordinary industrial sliding doors and roller shutter doors. The rapid opening and closing of the door type has greatly improved the transshipment speed of the production and logistics. It has the features of high reliability, practicability, easy operation and quick repair.
The MASTER WELL is available in a special model for low headroom situations. We create individual low-header door solutions for washing bays, fire brigades, underground parking, banks and insurance companies, cooling zones and many other applications. With state of the art technology, the low-header model measures up to the increasing security requirements for people and cars in underground parking, for example. It reaches opening speeds of up to 1.0 m/s, and guarantees greatest safety for people and vehicles.
If speed and hardness are what you need, then MASTER WELL High-Speed Spiral Doors will give you the superior advantage. Thanks to their unique construction – the spiral, they achieve peak speeds of up to 2.5 m/s. You can select the best and unique door system for your application. The fastest vertically opening door in the world, combined with the best heat insulation –The High Speed Spiral Door will provide this.