What are High Speed PVC Stacking Doors?
Views: 22 Author: Site Editor Publish Time: 2019-06-07 Origin: Site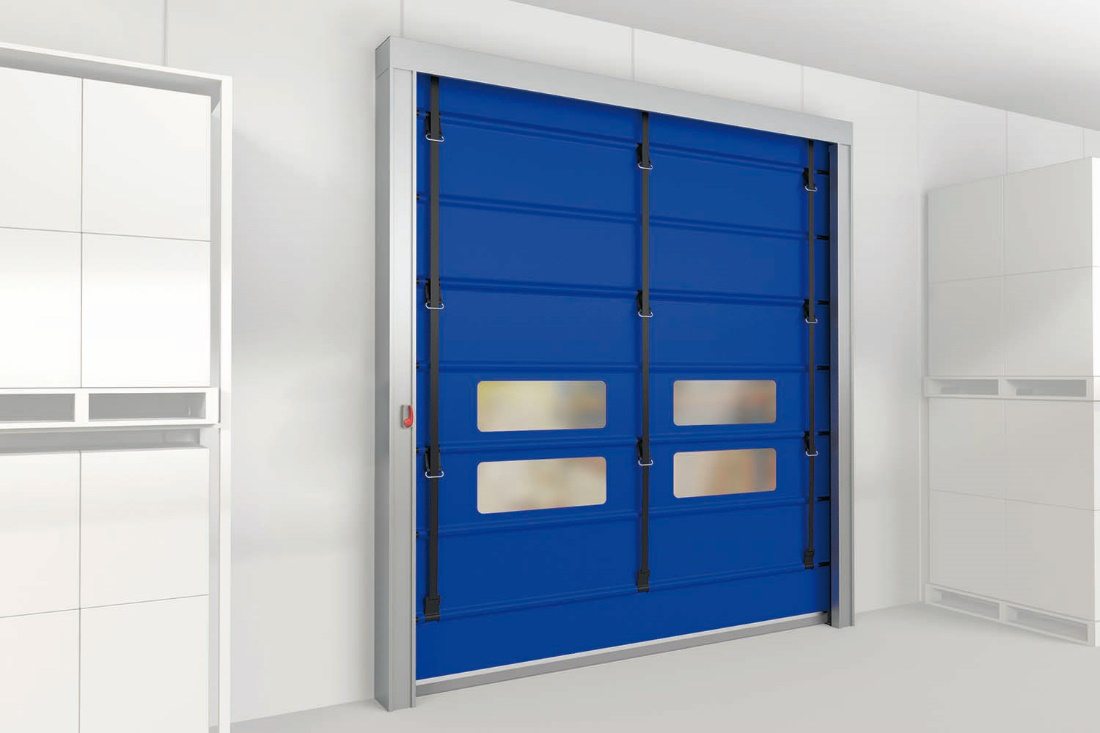 High speed PVC stacking doors is normally named as "soft curtain accumulation door" and "fast accumulation door", because the door body is pulled up by high intensity strap, so also can be called "strap door".
①Heat preservation and energy saving: the fast opening and closing function of the door improves the heat preservation effect of summer and winter seasons, reduces the loss of energy consumption.
②Sealing and isolation: the bottom is equipped with bottom seal extrusion with rubber seal, which can be combined with various uneven ground precisely, and can reach the standard of ten thousand level; The door column seal uses special double layer brush to increase better sealing. Unique sealing system with efficient sealing mode, greatly blocks the movement of hot and cold wind, prevent dust, insects from entering, also effectively cut off the spread of smell and noise.
③Safety performance: the door frame and box material is 0.8-1.2mm thick high-quality cold-rolled steel structure, high-quality baking, painting process; 2.0-2.5mm thick stainless steel or 3.5mm high strength 6063 oxidation resistant industrial aluminum alloy column.
④Power system: special motor with stacked door. The core quality of the high speed PVC stacking doors is guaranteed, and the operation failure will not be caused by voltage discrepancy.
⑤Control system: adopt high technology PLC and frequency converter control.
1) High speed PVC stacking doors can be opened and closed thousands of times in a day, and its service span is long.
2) High speed PVC stacking door is a new concept of vertical folding door, which completely abandons the disadvantages of traditional industrial door and has a new quality and efficiency.
3) High speed PVC stacking doors can ensure rapid passage: the speed of vertical folding of PVC material and automatic opening/closing speed allow continuous and rapid entry and exit and avoid the circulation of internal and external temperature.
4) High speed PVC stacking doors saves space for you: large area of PVC material can be stored into a small volume, which can be stacked on the metal shaft, saving the space of containers.
5) High speed PVC stacking doors has good wind resistance with reinforcing material of metal bar of horizontal interval, even for big application site, it can guarantee very high wind resistance; this function can protect worker and goods against blocking caused by improper operation.
6) High speed PVC stacking door's excellent sealing dustproof folding fabric PVC has good sealing even in windy weather.
Advantage:
High speed PVC stacking doors, with advantages of insulation, insect-resistant, windproof, dustproof, sound insulation, fire prevention, prevent multiple functions such as odor daylighting, and widely used in food, chemical, textile, refrigeration, electronics, printing, supermarket refrigeration assembly, precision machinery, logistics, warehousing and other places, apply to the logistics channel, large area of the mouth of the cave, windproof require higher inside and outside the door. Can be improved to meet the needs of high-performance logistics and clean places, and save energy, improve the efficiency of air conditioning, high-speed automatic shutdown, and improve efficiency.