What is a mechanical dock leveler?
Views: 37 Author: Site Editor Publish Time: 2019-12-27 Origin: Site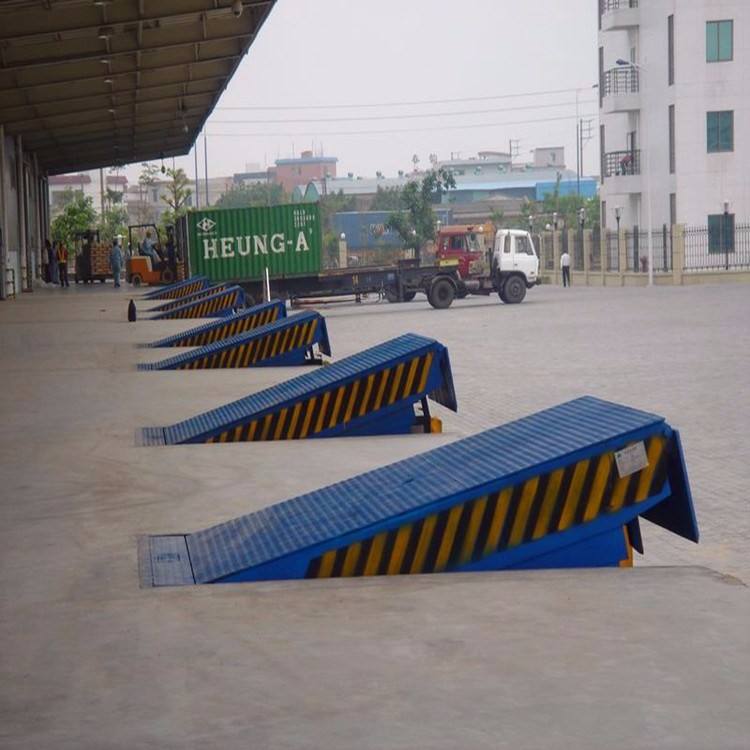 The dock leveler is the starting point and end point of an enterprise's logistics chain. It is a loading and unloading operation platform for enterprises to quickly and safely turn products and goods. The height of the dock leveler is fixed, but the height of the compartments to and from the transport carriages is different. A certain height drop or gap is always formed between the transport vehicle and the dock leveler. As a result, the forklift cannot enter or leave the transport vehicle to load and unload the cargo directly. With the unloading platform, the forklift can safely and quickly enter and exit the transport vehicle for dock leveler.
Now the dock leveler mainly uses

electric dock levelers

, and mechanical dock levelers are rare. Let's first introduce the contents of the mechanical dock leveler. Features and benefits of dock leveler
• Smooth transitions-Constant-radius rear hinges, two-point crown controls on the front extension plate hinges and optimized extension plate cuts provide a smooth transition for operators, forklifts and products from the factory floor to the truck.
• Durable ramp control is a reliable ramp control, including a 9-tooth pawl and ratchet rack system.
• Unique counterweight system ensures smooth, consistent and gentle operation.
• Extension plate recovery buffer The extension plate helps the system provide a consistent and reliable extension.
• Retractable extensions help prevent damage when the truck is reversing.
• Double safety stops help prevent uncontrolled platforms from falling freely.
• Unique maintenance support system protects employees and provides lockout / tagout functions during cleaning and inspection. The unique penetrating extension plate design can keep the platform in the correct position when the dock leveler is raised to the highest position or hit by a forklift.
• Seal around the dock leveler. The bottom of the dock leveler is sealed to prevent energy loss and improve dock leveler cleanliness and employee comfort.
The mechanical dock leveler we can provide is a table-side dock leveler, which adopts a cylinder lifting mechanical operation method. The main countertop and the loose-leaf slab adopt high-strength checkered plates. The table-side dock leveler is suitable for the situation where the height difference between the warehouse table and the truck table is small. Do not reserve pits for the table-side dock leveler. No power supply is required. Installation.
In addition to mechanical dock leveler, we can also provide hydraulic unloading platforms. Welcome to inquiry.