What does a dock leveler do?
Views: 18 Author: Site Editor Publish Time: 2019-12-31 Origin: Site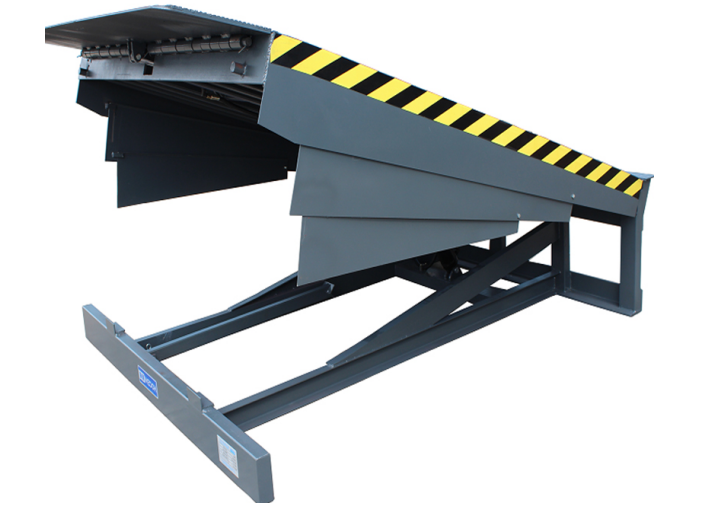 The loading dock platform is mainly used as a bridge for loading and unloading goods by forklifts, making loading and unloading more convenient and fast, and is a good helper for forklifts.
In a loading dock, one problem to overcome is the problem of bridging the gap between a truck and the dock or warehouse floor. Not all trucks are the same height, and the height of the trailer floor within a truck can vary according to how heavily the truck is laden. Thus there is not only a gap to bridge but a height difference to overcome. Various devices are employed in order to achieve this: dock plates, dock levelers, dock boards, and various forms of lift. These devices vary in construction, suitability to dock conditions, cost of installation, and loading capacity.
Loading Dock levelers and lifts are generally permanent fixtures at each door of a dock. Dock plates and dock boards are generally, by contrast, portable, and not fixed either to dock or truck.
Dock levelers are, as mentioned, fixed to the dock. They comprise a simple metal plate, called a lip, that is raised from a stowed position and then lowered onto the back of the truck. Lip can be hinged or telescopic type. They are operated either manually, via a simple pull chain, or hydraulically, (most common) with an electric pump driving a piston to lift the plate and another one to move the lip. When truck complete close dock area, the dock leveller main plate and lip will truck floor, forklift can go into truck directly for loading and unloading job.
Dock levelers (and indeed dock plates and dock boards) are used where a building has a truck-level door, i.e. a door with a floor level roughly at the same height as the floor of the truck's trailer. Some buildings only have drive-in doors, i.e. doors at the same level as the ground outside of the building, suitable for driving directly into the building.
There are different types of dock levelers. Some examples are hydraulic dock levelers, manual dock leveller, vertical storing dock levelers, edge of dock levelers, container dock levelers and the Dok-box pit forming kit. Master Well's Hydraulic Dock Leveller is very popular.
Our Hydraulic Dock Leveller - this is stored in the dock pit and provides the smoothest transition between the dock leveller and trailer improving safety and productivity at the loading dock. Thus, preventing injuries and minimizing forklift and product damage. The hydraulic positioning of both the lip and platform ensures high reliability and low maintenance of the dock leveller, and push button activation provides the dock attendant with simple control for safe operation.
After years of research and development of hydraulic lifting equipment, we have accumulated rich technology and experience. The product has novel design, stable lifting and simple operation. It is widely used in high-altitude operations, installation and maintenance of industrial and mining enterprises, railways, highways, airports, post and telecommunications, petroleum, electric power and other departments; cargo handling, transportation, and stacking on production lines; The layout, decoration, maintenance and cleaning of the scenes of the docks, halls, halls, halls and other high-rise buildings can greatly improve work efficiency.