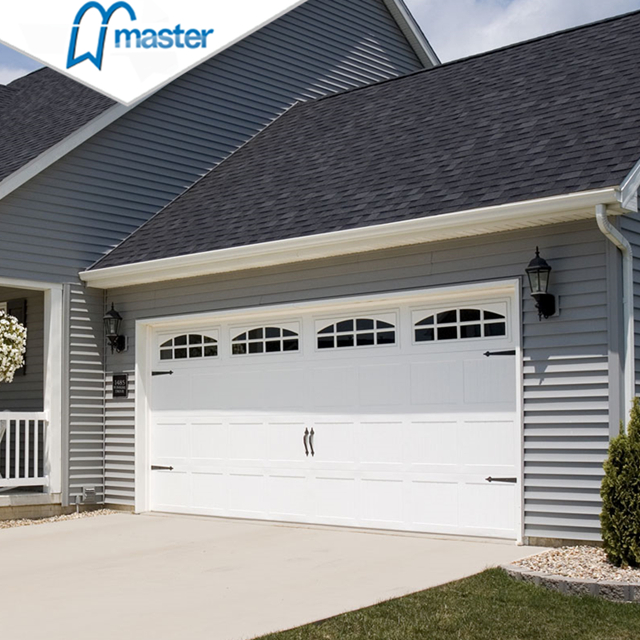 Sectional Garage door , also known as sectional door, is generally controlled by microcomputer program, easy to use, just need to press the remote control handle, and the motor with automatic delay lighting, when used, no sound, no harm to the environment. It has Beautiful appearance, elegant, simple and generous out looking. It also has the rebound blocked to guarantee safety.

Masterwell sectional garage doors offer a comprehensive range of sectional overhead door options. Master Doors are available in galvanized steel with high grade polyester coating on both sides.
Masterwell doors feature 40mm and 50mm thick section, with triple-layer construction, continuous thermal break and air seal between sections, and superior polyurethane insulation. Featuring engineered components and fittings, the entire door is designed to provide reliable performance with years of service.
As the garage door is an integral part of the home's design, architecture and security, our garage door features a range of styles, colors and options that will be perfectly fit your home.
Advantages of sectional garage door
Garage door has many advantages as following:
Heat insulation: the energy-saving polyurethane is quality heat insulator, non-absorbing and wear-resistant material with R-Value 13.73
Finger Protection: safety is important to today's homeowner. As your door closes, the exclusive finger protection system gently pushed fingers away from section joints.
Triple-Layer: triple-layer door includes the ultimate in thermal properties, plus a layer of steel for a finished interior look and adds durability.
High Strength & resistance material
Due to heavy-duty exterior and interior steel, polymeric coating keeps the door nice appearance, low maintenance, durable and reliable.
Air Tightness: The sealing system between door panels and around the door leaf increases the air tightness, prevents heat loss and blocks airflow between sections.
Noise Insulation: the thermal-insulation has sound-proof property. They prevent noise penetrating from the surroundings effectively
In general, one set of sectional garage door has door panels, installation accessories and garage door opener.
Door panels of sectional garage door
The surface finishes of garage door panel have wood grain, orange peel, fold and flush, the style of door panel has rectangle, 1 line and 3 lines.
The panel characteristics showed as below:
Panel type: finger protection panel & non-finger protection panel
Material: Galvanized steel with PU foaming
Material thickness: 0.35mm/0.45mm/0.5mm
Section thickness: 40mm / 50mm
Panel width: 440mm-550mm
Max available panel length:12m
Door accessories of sectional garage door
The door accessories have horizontal track, vertical track, nylon roller, bottom roller bracket, aluminum seal with rubber, middle hinge, side hinge, L profile support, cable drum, shaft, middle bearing bracket, motor cap, torsion spring, spring cones, top roller bracket and steel cable.
Sectional Garage door opener
Garage door opener offer a full line of powerful, reliable openers that provide maximum security and convenience, to perfectly suit your door.
The specification of garage door opener is showed as below:
Input power: AC220V, 50HZ / AC110V, 60HZ
Motor power: DC24V
Light power: 10W/24V
Max lifting height: 3.6m
Motor torque:600N, 800N, 1000N, 1200N, 1500N
Motor rail: 3.0m, 3.3m, 3.6m, 3.9m, 4.2m, 4.5m
Radio frequency: 433.92MHZ
Working environment: -20℃-70℃
Protection class: IP20
Standard equipment: 1 motor, 3.3m motor rail, 2 transmitters and other mounting brackets.
Rolling code & fixed code.